Stratfor Firm Spied on Occupy Movement
Russia Today
January 29, 2012
Anonymous promised that after hacking the intelligence firm Stratfor, called by some a "shadow CIA," they'd prove that they were more than just a consulting firm.
Now it looks like the private company worked along with law enforcement in attempting to bring down the Occupy movement.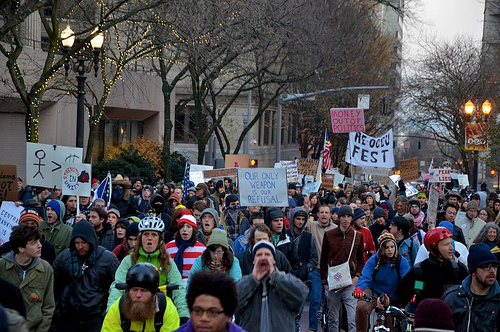 In some of the latest pieces of correspondence made public, however, information that many had already suspected about the role law enforcement played in infiltrating the Occupy Wall Street movement is brought to light. In an exchange of emails between Stratfor executives that has been published by hackers involved in the matter, employees of the firm go back-and-forth with one another in detail over information that Texas law enforcement supplied the firm after investigating an Austin Occupy meet-up.
In the emails, Stratfor employees discuss intel about the Occupy movement that was supplied to them by a "Texas DPS agent," or an officer within the ranks of the Lone Star State's Department of Public Safety. The DPS is a state-wide law enforcement agency that investigates suspicious activity and allegations of terrorism within Texas. The question of why state law enforcement shared that email with a private intelligence firm is open to interpretation, but certainly suggests that attempts to understand and perhaps undermine the local OWS chapter was more than just a minor operation.
According to the documentation, which includes correspondence from late 2011, Stratfor employees discuss both Occupy Austin and the Deep Green Resistance, or DGR. While DGR is not directly affiliated with Occupy Wall Street, it is a similar movement — to a degree — that encourages environmental activism that isn't present in more mainstream campaigns. In a press release, the DGR attacks both Texas authorities and Strarfor for their newly revealed roles.
Many people like you read and support The Real Agenda News' independent, journalism than ever before. Different from other news organisations, we keep our journalism accessible to all.
The Real Agenda News is independent. Our journalism is free from commercial, religious or political bias. No one edits our editor. No one steers our opinion. Editorial independence is what makes our journalism different at a time when factual, honest reporting is lacking elsewhere.
In exchange for this, we simply ask that you read, like and share all articles. This support enables us to keep working as we do.
About the author:
Luis Miranda
Luis R. Miranda is the Founder and Editor-in-Chief at The Real Agenda. His career spans over 19 years and almost every form of news media. He attended Montclair State University's School of Broadcasting and also obtained a Bachelor's Degree in Journalism from Universidad Latina de Costa Rica. Luis speaks English, Spanish Portuguese and Italian.