In a previous report ("Red alert! GMO avalanche in Mexico"),1 we recounted the circumstances leading up to the imminent threat of the introduction of genetically engineered (GE) organisms (also known as GMOs, genetically modified organisms, or transgenics) into Mexico and several other Latin American countries. The whole continent is seeing a wave of measures, such as seed and intellectual property laws, designed to facilitate multinational control over agriculture. Unfortunately, these efforts are finding an echo in international organizations like the FAO and CIMMYT and in "development" foundations like the Bill and Melinda Gates Foundation.
With or without the granting of commercial planting permits, the threat of Mexico's largest cities being inundated with transgenic maize still looms. We are seeing the proliferation of authoritarian crop intensification systems whose ultimate result is to contaminate native maize varieties in the very centre of origin of this crop – one of the four most important crops in the history of humanity.
Public protest
The approval of permits for the commercial planting of GE maize in the states of Sinaloa and Tamaulipas had seemed imminent, but thankfully this did not come to pass during President Felipe Calderón's final months in office. Yet the threat remains under the new administration of Enrique Peña Nieto. He may try to use his "National Crusade Against Hunger" as a pretext to distribute GE maize, claiming that it is needed to fight hunger.2 He might also invoke the Crusade in support of land grabbing, monoculture, and industrial agriculture with its typical package of agrotoxins, intellectual property rights, and criminalization of native seeds.3
Approval was not granted, the dates for a ruling expired, and the planting season for irrigated maize for northern Mexico, where the permits were requested, is over for the time being.
This success is a significant achievement on the part of Mexican and international organizations. Months of effort, initiative, and coordinated mobilization have gone into this. Information has been disseminated through the newspapers, social networks, meetings, assemblies, workshops, international petition campaigns, strikes, sit-in and fasts, public debates, and radio spots by well-known activists, intellectuals, and artists. Countless opinion pieces, news stories, billboards, and Web video and radio interviews have appeared. The national and international political cost in terms of public opinion continues to rise. On another level, the legal and administrative tangle through which various government bodies are attempting to navigate has made it very difficult for them to act in a coordinated fashion.
But it would be a mistake to assume the threat no longer exists. When planting time (irrigated or seasonal) rolls around again in northern Mexico, we will find out whether the corporations think they have their winning conditions in place. Applications for new permits have already been filed, covering as much as 36 million hectares.4
As the new administration took power, various student, community, and environmental organizations, both urban and rural, held an event on the steps of the Ministry of Agriculture, Livestock, Rural Development, Fisheries, and Food (Sagarpa), which has final authority over GMO permits.5 Flyers were handed out and speakers took turns urging the Ministry to take responsibility for preventing imminent contamination.6 At the same time, solidarity groups in Berlin, some of them associated with Via Campesina International, peacefully demonstrated in front of the Mexican Embassy "to demand that the government of Mexico refrain from issuing large-scale GE maize planting permits for commercial purposes."7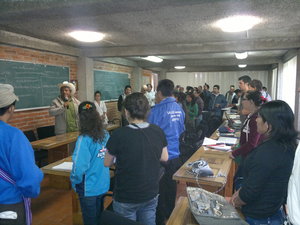 From 15 to 17 January 2013, the Red en Defensa del Maíz (Network in Defence of Maize, or RDM), made up of more than 1,200 communities in 22 states of the union, held its first assembly of 2013. It issued a concise summary of the current situation and reiterated the people's firm resolve to ban GMOs:
We the communities, organizations, and people identifying with the Red en Defensa del Maíz for the past eleven years, raise our voices once again to reject the introduction, movement, marketing, exchange, research, storage, and planting of all transgenic crops.
We reject the whole GE maize paradigm as a direct attack on over 10,000 years of stewardship of native maize; on the agricultural and subsistence strategies of peoples and communities; on Mexico's food security and sovereignty; on free and autonomous food production from native, patent-free, non-genetically modified seeds, and on public health.
We have said it before, but it must be repeated: Mexico and all Mesoamerica (and beyond) are the centre of origin and diversification of maize. We reject the government's attempts to legislate geographically circumscribed alleged "centres of origin" which implies the existence of many other sites where transgenic crops could be planted. We stand for the political, biological, and territorial integrity of Mexico as the centre of origin and ongoing diversity of maize, as embodied in the continuing vitality of its indigenous peoples.
Today, after eleven years of resistance, we raise our voices along with the many others who have sounded the alarm against the threat of permits being granted for commercial planting of GMOs on over 2.4 million hectares in the states of Sinaloa and Tamaulipas. These are states in which large quantities of maize are grown for human consumption. Our cities would be inundated with contaminated maize that has been shown to be associated with health risks in studies in other countries – which is precisely what our communities and organizations have been saying for the past eleven years.8
RDM has maintained a three-pronged strategy throughout this time: 1) to keep GMOs out of our communities, regions, and country, whether they come in the form of foreign imports or government aid, and 2) to defend the lives, livelihoods, and self-determination of the peoples who are stewarding maize (which means that the communities actively stand watch over their territories and autonomy) and 3) assume a state of continual, perennial monitoring and action, come what may). The organization recently stated:
We salute all those communities and organizations working at the local and regional levels that have reached agreements, or passed bylaws and regulations, posing a real barrier to the entry of GMOs into their localities; all those people who have stayed alert and rejected unknown, alien or hybrid seeds provided by government programs and companies who try to bribe the people with programs or projects.
This active moratorium has been kept up for eleven years, and Mexico continues to be a country where GMOs have not prevailed. This is why, given the emergency we are now facing, it is so important to redouble our efforts to preserve and fortify native seeds and the trusted channels through which they are exchanged, and through which their diversity is preserved. At the same time, we must root out all alien or unknown seeds, especially if those seeds are promoted by the government and the companies.
Of course, it is no longer just a problem of careful planting, harvesting, and exchange of seeds through trusted channels. We must now pay close attention to the origin of all the maize we consume, knowing that it is found in a great variety of processed foods. We must heighten our efforts to reject processed products containing industrial maize ingredients, since they are bound to be transgenic.9
Shortly afterward, the international organization AVAAZ published a petition against GE maize, with more than 42,000 signatures from people around the world, as a result of a campaign launched in conjunction with the Mexican organizations involved.10
From January 21 to 31, members of UNORCA, a Via Campesina affiliate in Mexico, went on a hunger strike to protest the proposed commercial planting permits for GMOs. Its press release states:
With this act of voluntary mortificationl as a civic gesture, we honour those 30 million of our compatriots who go hungry or cannot get enough food every day. We wish to share our concern for the health, culture, and economy of our nation, which are being degraded by a development model that favors a minority, including those transnational corporations that are now conspiring to take control over one of the greatest treasures of our peoples: maize.
We wish to express our outrage at the immense crime that would be committed against the Mexican people if GE maize were approved for commercial planting. We demand that the federal government put the interests of rural people and the majority of Mexican farmers above those of the transnationals.11
In late September 2012, broad-based organizations from both rural and urban areas held a series of grassroots workshops in working-class neighborhoods of several cities to inform the public about the prospect of a transgenic invasion, create opportunities for dialogue and strategizing, and prepare themselves to fend off such an invasion if it should materialize.
Between January and March of this year, a whole range of activities took place with a view to strengthening national and international alliances among grassroots organizations as well as spearheading analysis of the disastrous implications of GMOs for maize diversity in its centre of origin, and thus for peasant agriculture and public health.
Perhaps there has never been a time when the importance of defending maize and keeping out GMOs have been so firmly understood by the general public in Mexico. The "Yo Soy #132" student organization and other youth, student, and urban activist organizations, alongside the RDM and the Asamblea de Afectados Ambientales (Assembly of the Environmental Aggrieved), held a panel discussion on 7 February 2013 at the UNAM Faculty of Science, hoping for attendance by officials of Sagarpa, the Ministry of the Environment and Natural Resources (Semarnat), the Interministerial Commission on Biosafety of Genetically Modified Organisms (Cibiogem), and the National Biodiversity Commission (Conabio) – the authorities involved in approving and advising on GMO-related matters and for issuing permits for pilot, experimental, or commercial planting of GMOs in Mexico.
None of them showed up or even formally responded to the invitation. Sagarpa, in a phone conversation, declined to attend because it is allegedly waiting for direction from the new government before taking a policy position. Conabio did not attend either, even though in October 2012 it had published a report clearly stating its doubts about the merits of approving GMOs: "We are, as a country, confronting a serious problem without an obvious solution: that of introducing a new technology involving living organisms without clear evidence that it can be used safely under conditions guaranteeing minimum impact on the environment, biodiversity, and food security."12 But it gave no official response to the invitation.
The panel discussion featured Antonio Turrent, President of the Unión de Científicos Comprometidos con la Sociedad (UCCS), the Mexican counterpart of the US-based Union of Concerned Scientists (UCS); Silvia Ribeiro of the ETC Group; Peter Rosset, a researcher at the Colegio de la Frontera Sur and an adviser to Via Campesina, and Álvaro Mena, a Maya peasant from the Yucatán Peninsula and a beekeeper who has watched his colonies collapse and his honey be banned from the European Union because it contained traces of genetically modified material, all due to the agroindustrial model of conventional and GE soya monoculture which uses a great deal of agrochemical. Mena said that the community has lost 1,500 hives due to the spraying of neighboring monocultures.13
The discussion was attended by over a thousand people. Turrent stressed that there is no need for GMOs in Mexico, where there are plenty of native seed varieties. All that is needed is support for peasant farming, which can meet the population's food needs. A few days later, Turrent and the UCCS's Alejandro Espinosa elaborated on their position:
Mexico is the centre of origin of maize and the region with the greatest existing genetic diversity in this crop and its wild relatives. The world's seed banks hold a trillion maize seeds, each genetically unique, and this is only a small fraction of the world's maize biodiversity.
In comparison, Mexican peasants plant about 100 billion maize seeds every year, representing 59 native landraces. They harvest 20 trillion grains of maize, all of it exposed to adaptive environmental forces during the season. Peasant women then select another hundred billion maize seeds for the following season's planting and the rest serves as food.
In other words, every year sees Mexican peasants managing twenty times the biodiversity contained in the world's seed banks, with tremendous selection pressure (one of every 100 seeds) favouring those morphological traits most prized by Mexico's many different cultures. Producers exchange seeds within the community, and some sell their seeds locally or regionally.
This dynamic, unparalleled mega-experiment in indigenous plant breeding is one the peoples of Mesoamerica have been carrying out ceaselessly for over six thousand years. It is they who deserve the credit for today's maize diversity.14
The host organizations issued a press release that joins the hundreds of other statements and documents that together present an edifice of irrefutable argument. Their first grievance was that not a single government official was in attendance, even though invitations were sent out well in advance.
The authorities' indecision is appalling, given the wealth of information available about the potential risks of genetically modified organisms to human health, productivity, and local and national economies, as well as their impacts on soils and wildlife. This is why we are demanding that the Mexican government follow the recommendation of the UN Special Rapporteur on the Right to Food, Olivier de Schutter, who in 2011 urged the authorities to reestablish the moratorium on field trials and commercial cultivation of genetically modified maize and to ban its commercial cultivation in order to protect biodiversity.
We reject GE maize not only because of the threat it poses to world biodiversity but because of the likelihood of irreversible genetic contamination of native varieties; the certainty of seeds being concentrated in the hands of a few companies, making Mexican farmers captive consumers of their inputs and jeopardizing food security and sovereignty; the prospect that the history and culture of the diverse Mexican peoples will be destroyed, and many other considerations beyond the scope of science as such.15
Via Campesina, the ETC Group, and GRAIN wrote letters directly to the FAO and the Convetion on Biological Diversity, calling on these agencies to prevent a catastrophe from occurring in the centre of origin of maize. The FAO repeated its response of two years ago:
The position of the FAO has always been to recognize that genetically modified organisms raise difficult issues and that member countries and their citizens must make their own decisions in regard to planning, investment, marketing, research, training, and use of genetically modified organisms. Policy and decision-making responsibility on GMOs rest with the government of each country.16
This response is far removed from the one given in a letter to the same organizations by Braulio Ferreira de Souza Dias of the Convention on Biological Diversity:
In view of the applications received by the Government of Mexico regarding the environmental release of various genetically modified maize varieties, I have written to the country's national focal points for both the Convention on Biological Diversity and the Cartagena Protocol on Biosafety. In the letter, I reminded them of their obligations under the Convention and the Biosafety Protocol and I particularly stressed the importance of Mexico as a centre of origin of maize, the fundamental role of maize in world food security, and the importance of preserving the genetic diversity of the species faced with the challenges of climate change and other environmental pressures. I hope that the government of Mexico will take account of the concerns of all interested parties and will make appropriate decisions.17
Caught up in the whirl of events and in the crush of deadlines for granting or denying the commercial planting permits that Monsanto, Dow Agrosciences, and Pioneer (PHI Mexico) applied for in September, the organizations involved in the fight against GMOs turned to legal channels. Conflicting interpretations of the regulations were circulating. One said that since fifty days had elapsed without the assessing agency issuing a recommendation to the decision-making agency, that meant commercial planting of GMOs had been approved by default. Another countered that since four months had elapsed since the filing of the applications, the permit was deemed to have been denied.18
With approval still a serious threat, the groups resumed their mobilization efforts. On March 16, Greenpeace and UNORCA-Via Campesina held a forum in Culiacán, Sinaloa (where GE crops would be planted if the permits were approved) to discuss the implications. The forum featured Percy Schmeiser, a Canadian farmer who was sued by Monsanto for violating the company's intellectual property, when in reality the farmer should have been the aggrieved party since his fields were contaminated. After years of litigation, Schmeiser lost the case and the company was strengthened.19
The environmental section of Yo Soy #132 and Jóvenes ante el Desastre y la Emergencia Nacional, another youth activist group, appealed directly to the UN High Commissioner for Human Rights.2021
On March 25, a federal access to information request22 elicited a response from Mikel Arreola, head of the Federal Health Risk Protection Commission (Cofepris), an agency of the Ministry of Health, to the effect that "the approved marketing of 56 transgenic maize seeds has not given rise to any reported harm to health" but insisting that planting in Mexico was not yet approved. His comments added to the confusion surrounding the bewildering variety of reports, opinions, approvals, sanctions, and decisions from different government departments, agencies, and institutes. His bald assertion that GMOs are harmless contradicts his insistence that approval has not been granted because "the suitability of planting transgenics in this country has not yet been determined."23
In the face of this confusion, a number of civil society organizations took preventive action by filing a complaint with the National Human Rights Commission against President Peña Nieto and other officials "for the potential approval of commercial planting applications, since if approval is given, these persons will be violating Mexicans' right to health, food, and a healthy environment as well their cultural rights." Greenpeace stated that "the complaint filed by the organizations can be replicated by any individual citizen or organization, since the rights of every Mexican are in jeopardy." So there are still legal channels available in the event that commercial planting of GMOs is authorized.24
Eternal vigilance
A lawyers' collective formed by the Asamblea de Afectados Ambientales, the Colectivo por la Autonomía, the ETC Group, the Centro de Estudios para el Cambio en el Campo Mexicano, the Centro Nacional de Misiones Indígenas, and GRAIN researched the implications of the legal and administrative morass that provides the context for the authorities' decision-making on commercial planting. The collective assessed the need to take preventive legal action and took stock of recent successes:
1. In recent years, Mexican activists have put the grave problem of GE contamination in the centre of origin of maize on the radar screen in this country and abroad. No one can now ignore the crucial importance of the number one food staple of the Mexican people and many other peoples around the world. The issue has gone international.
2. Activists marshaled a wide range of responses to GMOs and to what had seemed to be the unquestionable authority of government officials and scientists. The coalition includes concerned scientists and academics, students, human rights advocates, neighborhood activists, religious and health activists, social reform and protest movements, environmental victims, and peasant and indigenous farm and community organizations. Even unaffiliated citizens have come to recognize the importance of the struggle to their own well-being, and in particular the identity, food security and sovereignty, and national sovereignty aspects of this struggle. They grasp the need for resistance.
3. The procedure and deadlines for the approval or denial of commercial planting permits have clearly expired. Any new attempt will have to proceed accordingly, through the proper legal and regulatory channels.25 This is a real achievement, one that sets a benchmark for further Mexican activism. It is a significant and straightforward victory in a context in which disinformation and institutional opacity have been the norm. After all, activist organizations have had to make numerous requests for information, going as far as to appeal to the Federal Access to Information Institute, before they could obtain a useful response from any government department.26
4. However, with institutional silence continuing to weigh heavily around the approval or denial of the permit applications (which, we stress, have now expired), the main question the movements are pondering is: What will we do if and when the permits are finally approved, through either legislation or exploitation of legal loopholes, and corporations actually start planting? The answers are clear.
For many organizations, it will be important to prepare legal challenges, even if commercial planting of GMOs is asserted to be permitted under laws – such as the Biosafety and Genetically Modified Organisms Act or the Seed Production, Certification, and Marketing Act – which the Mexican people consider to be central violations of their rights. Precisely which steps are to be taken domestically and internationally will depend on the circumstances of the approval, assuming it takes place. Still, it is clear that such legal remedies or complaints cannot be the centrepiece of a strategy to resolve a conflict pitting the population against the corporations and the government. At best, legal action will serve as a short-term fulcrum towards broader, fiercer, and more deeply rooted resistance.
5. What with the many injustices represented by these two laws, Mexican activist organizations are looking at initiating domestic and international legal challenges to have them overturned.
6. Ever more people are speaking up in Mexico and internationally to say that the Mexican government's injustices against the people deserve to be judged by the Inter-American Court of Human Rights or the Permanent People's Tribunal, a body with a long track record of morally authoritative decisions.27 With the inauguration of the Tribunal in Mexico in October 2011, seven cases were in fact filed, including one complaining of the "violence done to maize, food sovereignty, and people's self-determination."
7. As part of the TPP process, new spaces known as pre-hearings are emerging in which people and communities in Mexico can work towards an understanding of aspects of the domestic and global situation that are harming them.
Pre-hearings provide an opportunity to discover the governmental bodies, corporate groups, or individuals responsible for these injustices and to discuss ways to remedy the situation. Aggrieved parties submit cases to persons of recognized moral authority and independence who proceed to corroborate the factual nature of the grievances and confirm that the cases are well-founded. One planned pre-hearing concerns the transgenic contamination of native maize and the liability incurred by companies and governments in this regard.
Another seeks to demonstrate that companies have knowingly attempted to disrupt the relationship between people and their means of subsistence (land, seeds, water, earth, biodiversity, and other parts of the commons). This case argues that the companies are either undermining or outright attempting to prohibit ancestral and contemporary strategies that people can use to take care of their own subsistence – what people call peasant farming, which can simply be defined as independent or independent-minded farming methods.
A third case considers seed-related laws and regulations. It contends that the Mexican Seeds Act is deliberately designed, as are similar acts throughout the Americas, to criminalize native seed saving, planting, exchanging and trading. This pre-hearing will also discuss intellectual property and privatization processes as they relate to seeds and plant materials.
A fourth case will document the invasion of transgenic soybeans, and in particular the well-documented contamination of beekeeping operations in the Yucatán Peninsula. A fifth case will establish the role of government programs, such as imposed agricultural models, privatization, and compulsory individualized landholding, in the dismantlement of peasant life. A sixth case is designed to shed light on the corrupt relationship between public research institutions and private companies. PPT organizers say that the more people there are contributing their experience and vision to the analysis of the difficulties facing peasants – not to mention the outright attacks on them – the clearer the path ahead will be.
These new forums are helping to strengthen ties between organizations, communities, and regions. It is an important time for popular strategizing throughout the country, similar to what occurred in Colombia when the Tribunal held sessions there from 1989 to 1991 and again from 2005 to 2008.28
8. Ultimately, the most trenchant lesson to be derived from these months of uncertainty is that people have to maintain focus on what RDM has been advocating for years: a comprehensive strategy in which defending maize means planting it, and thereby defending the lives and livelihoods of the peoples who treasure maize.
People must establish strict and effective GMO-free zones at the community and regional levels, and keep out GMOs from any source, whether government or corporate. People must keep or restore community control over ancestral and modern strategies for independent agriculture. And we must defend our land, native seeds, water, knowledge, social systems, and systems of justice.
Whether it is done legally, illegally, clandestinely, or cynically, the invasion of GMOs and the contamination of native varieties would be a tough blow. But over the long term, people will keep up the fight for native maize. We will decontaminate and strengthen it until the end of time. As necessary we will resort to mobilization, collective strategizing, day-to-day work, or legal action. In short: the fight is far from over. The future is unrwritten.
---