By JURRIAAN MAESSEN | INFOWARS.COM | MARCH 26, 2012
In the course of August and September 2010, I wrote several articles for Infowars on the Rockefeller Foundation's admitted funding and developing of anti-fertility vaccines intended for "mass-scale distribution." As the soft-kill depopulation agenda accelerates it seems all the more relevant to re-post these articles as one. I ask the great Infowars-readership to project this information out to as many people as possible. Only by countering the elite's disinformation with genuine information do we stand a chance against their plans for humanity.
Jurriaan Maessen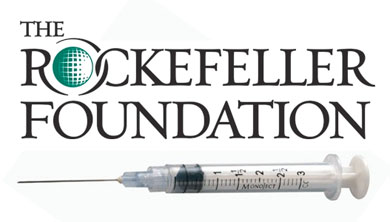 1: Rockefeller Foundation Developed Vaccines For "Mass-Scale" Fertility Reduction
In its 1968 yearly report, the Rockefeller Foundation acknowledged funding the development of so-called "anti-fertility vaccines" and their implementation on a mass-scale. From page 51 onward we read:
"(…) several types of drugs are known to diminish male fertility, but those that have been tested have serious problems of toxicity. Very little work is in progress on immunological methods, such as vaccines, to reduce fertility, and much more research is required if a solution is to be found here."
The possibility of using vaccines to reduce male fertility was something that needed to be investigated further, according to the Rockefeller Foundation, because both the oral pill and the IUD were not suitable for mass-scale distribution:
"We are faced with the danger that within a few years these two "modern" methods, for which such high hopes have been held, will in fact turn out to be impracticable on a mass scale."
The possibility of administrating hormone preparations to reduce fertility was also mentioned, although- states the report- they have been known to "cause bleeding problems, which may limit their usefulness."
"A semipermanent or renewable subcutaneous implant of these hormones has been suggested, but whether or not the same difficulties would result has not been determined."
Saying that research thus-far had been too low-grade to produce any substantial results, the report was adamant:
"The Foundation will endeavour to assist in filling this important gap in several ways:
1- "Seeking out or encouraging the development of, and providing partial support to, a few centres of excellence in universities and research institutions in the United States and abroad in which the methods and points of view of molecular biology are teamed with the more traditional approaches of histology, embryology,and endocrinology in research pertinent to development of fertility control methods;"
2- "Supporting research of individual investigators, oriented toward development of contraceptive methods or of basic information on human reproduction relevant to such developments;"
3- "Encouraging, by making research funds available, as well as by other means, established and beginning investigators to turn their attention to aspects of research in reproductive biology that have implications for human fertility and its control;"
4- "Encouraging more biology and biochemistry students to elect careers in reproductive biology and human fertility control, through support of research and teaching programs in departments of zoology, biology, and biochemistry."
The list goes on and on. Motivation for these activities, according to the RF?
"There are an estimated five million women among America's poverty and near-poverty groups who need birth control service (…). The unchecked fertility of the indigent does much to perpetuate poverty, undereducation, and underemployment, not only in urban slums, but also in depressed rural areas."
It wasn't long before all the Foundation's efforts began to have effect. In its annual report of 1988, The RF was happy to report the progress made by the Foundation's Population Division in the field of anti-fertility vaccines:
"India's National Institute of Immunology successfully completed in 1988 the first phase of trials with three versions of an anti-fertility vaccine for women. Sponsored by the government of India and supported by the Foundation, the trials established that with each of the tested vaccines, at least one year of protection against pregnancy could be expected, based on the levels of antibodies formed in response to the immunization schedule."